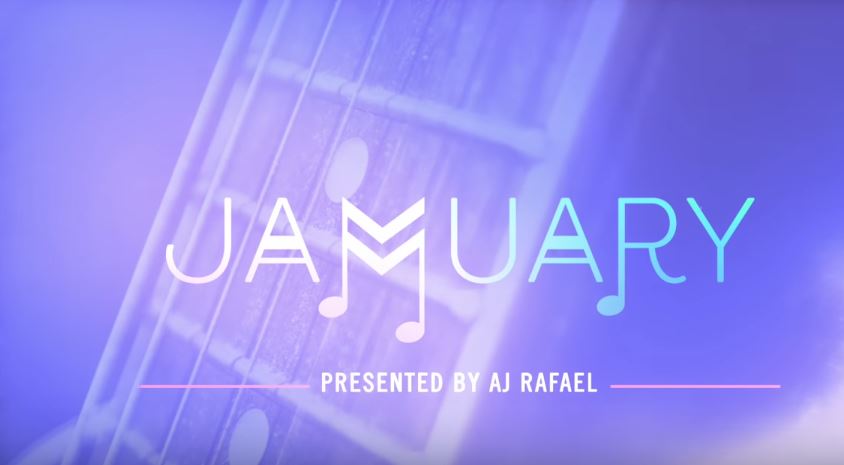 AJ Rafael is back with new covers!
This time, he collaborates with his younger sister, Justine Rafael for the song "You'll Be In My Heart". This is the soundtrack of Tarzan and both AJ and Justine sang the track beautifully. Justine is known for having a beautiful voice like her older brother and many were happy to see them sing this track together. This was a great cover to start 2018 with!
AJ Rafael reveals, "Happy #Jamuary!!! I'm uploading a music/collab video EVERYDAY this month!!! The first one is with my amazing sister, Justine Rafael. So proud of her. Enjoy our cover from one of my favorite Disney movies!"
Check it out below.
---
The 2nd cover for the project Jamuary is now released! This time, the singer covers a mashup of "Perfect" by Ed Sheeran and "Can't Help Falling In Love" by Elvis. This cover is featuring Samica and it sounds lovely.
Listen to it below.
---
The 3rd video unleashed is an OST from COCO. The title of the OST is "Remember Me".
---
The 4th Jamuary video unleashed by the singer is "Rainbow" and "Forevermore" by Southborder and Side A. This video features the great singer, Randolph Permejo. He reveals, "My 4th #Jamuary video is a medley of some of my favorite OPM!!! (Original Pilipino Music)… Randolph and I grew up listening to this stuff!!! Hope you guys enjoy our live acoustic jam… Let's take yall backkkkk…. "
---
AJ Rafael releases a video of his original song "Emma Watson" featuring RJ dela Fuente. AJ Rafael says, " This is a song from my album, "Red Roses"! For those of you who know it, hopefully you enjoy our new "arrangement" with my friends RJ De La Fuente, TJ Brown, & Eric Kern! RJ is visiting from the Philippines so it was good to have him for #Jamuary!"

---
AJ Rafael and Samica are heard singing with different languages for this video!
---
Another original song sung for his Jamuary! He features Moira Dela Torre. AJ Rafael states, " My song "Without You" from my album, Red Roses… but this time with my good friend Moira Dela Torre… All the way from the Philiippines!!! So thankful to have jammed with you, Moi!!! Thanks for making time while you were out here!"
---
Next is an outdoor jam session with Blair Caldwell singing the song "Ordinary People". AJ reveals, " Jammin with my friend Blair Caldwell to one of my favorite songs EVER, Ordinary People by John Legend. Such a classic tune. Wanted to change it up a little and play it on the acoustic guitar for y'all.. Blair and I met during a reality TV show callback a long time ago and I'm glad to have stayed in touch!"
---
Joseph Vincent joins AJ Rafael for his original song "Juicebox". AJ says, " I'm honored to have my friend Joseph Vincent on my channel (FOR THE FIRST TIME!!!) singing a song I wrote (back in the dayyy). I've known this guy for years and we've supported each other's careers through it all and I'm happy to finally work on something. Also very happy he brought up this one. Love you, Joe!"
---
A Spotlight is revealed for the next video!
AJ Rafael states,
As you all know, I'm a songwriter! And I love writing songs! I understand the demand of covers and singing the popular songs, but through my last 14 years of making music… I've found that the music I've written has fulfilled me the most and I hope it's impact is just as powerful.

I'm happy to be showcasing Michael Barnum's song, Universe. Hope this song inspires you the way it first inspired me when I heard it!

A big thank you to Michael Barnum for letting us jam on your original song with you. We've met a few times before this day, but I'm glad I'm able to now call you a friend! Wishing you the best on this crazy musical journey we've both decided to take.
---
AJ Rafael covers "Straight Up & Down" by Bruno Mars with his good friends Albert Posis and Mark Mejia.
---
AJ Rafael is singing a High School Musical song "Breaking Free" with Lorelei Sinco. He reveals,
So I met Lorelei 10 years ago at an audition for a theatrical production of High School Musical at RCC, sang with her at callbacks, and never saw her again. UNTIL a random day where I went to the Star Wars Last Jedi marathon at the El Capitan Theatre in LA where I ran into her! And I was like, "let's sing together sometime again!!" So here we are!!! Haha.
---
AJ Rafael reveals "A Million Dreams" from The Greatest Showman featuring Jun Curry Ahn. He says, "Jun came over one day before a gig he had at UC Riverside and we just decided right then and there that we were going to do this live cover after talking about how we both loved The Greatest Showman so much."
---
If you remember AJ Rafael's album "Red Roses" when you'll clearly remember "She Was Mine" which was a duet with Jesse Barrera. Now, the two are back to singing the 2018 version and it still sounds amazing.
AJ Rafael says this is, "a #Jamuary rendition of a song we wrote back in 2008… "She Was Mine". we have a couple versions of this song but it never gets old to us. we rarely get to sing it together so here it is for y'all!"
---
---
---
---
---
---
---
---
---
---
---
---
---
---
Stay tuned for more!
Video Credit: AJ Rafael