Singer, songwriter and actress, Jannine Weigel sits down to answer a few questions for an exclusive interview with HypnoticAsia!
Jannine was born in Germany on July 30, 2000 and moved to Thailand in 2010 where it influenced her road to fame. She is now popular in Thailand as a singer, songwriter and actress; she released multiple original self-written tracks and was featured in many series and soaps in Thailand where she was a lead actress.
She began via YouTube at the age of twelve (12) and everything just fell into place as she now has over 2.4 Million subscribers on her YouTube channel.
Interview with Jannine Weigel
HYPNOTICASIA: Introduce yourself to the HypnoticAsia readers. What is your story?
JANNINE: I started with music when I was 12, that's when I started my YouTube channel. Back then, I was already in a (Thai) label but I was still a trainee so I had a lot of free time. That's why I started my YouTube channel. That's where it pretty much took off. I've been doing a lot of covers and I have a couple covers that have over 20M views. I currently have over 2.4M Subscribers.
HYPNOTICASIA: How would you describe your music to those who have not heard it before?
JANNINE: I try to make my music as inspirational as possible. So I guess it's inspirational? haha
HYPNOTICASIA: What or who inspired you to pursue a musical career? When did you decide to follow this path? Who are your biggest musical influences and what aspects of them do you admire most?
JANNINE: My mom is the one who sparked my passion for music for me. She always liked me to sing karaoke since I was 3 years old and I loved it. I always wanted to be a singer since I could remember but I really started to get serious with my dream when I started my YouTube channel at the age of 12. My musical influences are mostly female singers, say Taylor Swift, Katy Perry, Selena Gomez and Ariana Grande. I think they all are amazing performers and watching their shows is just mesmerizing. I hope I can entertain as good as them one day.
HYPNOTICASIA: You began your entertainment career in modeling at the age of eleven (11), why did you later decide to take up singing?
JANNINE: I just kinda knew that I wanted to focus more on singing because I just felt like I haven't really tried that yet. I've done a lot of TV spots and commercials but I've never tried to seriously work as a singer. So I tried my first shot at a Thai TV singing competition. I later won 3rd place.
HYPNOTICASIA: You joined "Singing Kids", which is a national singing competition seen all over Thailand; how did it feel winning third place?
JANNINE: Of course, back then it was a real surprise for me that I made it that far because that was my first singing competition! That moment was another thing that really sparked in me and made me decide that I really want to be a singer.
HYPNOTICASIA: We recently learned that you speak different languages and continue to learn new languages. Why did you take up such a challenge and what languages can you currently speak fluently as well as how many are you continuing to learn?
JANNINE: I basically can read-write-speak 3 languages which is English, German and Thai. That comes from being mixed-race (German-Thai) and my parents speaking to me/each other in different languages. I would really want to learn more languages but currently I'm super busy!
HYPNOTICASIA: According to your official website, your biggest dream is to be a famous singer. What steps are you taking to reach your goal?
JANNINE: I try to do more original songs and less covers cause I try to step into being an original artist, not just doing covers.
HYPNOTICASIA: From all your originals, which is your favorite and why?
JANNINE: Right now, I like "Heart Stop" the most cause it's such a fun and sassy song. I really want to do more songs that have this vibe cause I myself am a quite active and cheeky person. And I think these type of songs can make everyone happy.
HYPNOTICASIA: From all your covers on YouTube, which is your favorite and why? Also, would you rather cover songs alone or with a fellow artist?
JANNINE: I think my current favorite cover is my cover of "Shape of You" [originally sung by Ed Sheeran] with Tyler and Ryan Falcoa. I love doing collabs because it's fun and the fans love it, besides that you also get to know a lot of people by doing collaborations.
HYPNOTICASIA: Different singers have different ways to prepare themselves before performing; do you have any special preparations to get you motivated prior to going on stage?
JANNINE: I actually get really scared before performances! But when I get up stage, I just try to look for fans that I see and meet a lot and that kinda makes me less nervous.
HYPNOTICASIA: Not only have you tackled singing and modeling but you are also an actor! We recently watched you in U-Prince; what was it like working with various actors in Thailand?
JANNINE: It's a lot of fun! I actually acted in several series and soaps and it was all a great experience! It's great to get to work with various people.
HYPNOTICASIA: What type of acting role would you like to tackle next and is there any actor you would like to act alongside?
JANNINE: I actually wanna act in a horror movie, either a ghost or slasher movie. I just love that stuff. I love playing terrified I guess lol. I would love to play something like the main actress in the movie Orphan!
HYPNOTICASIA: Are there any music genres you'd like to experiment with?
JANNINE: I seriously want to do Hip Hop music! I love Hip hop! I would love to try to rap and stuff, it's just that I haven't got the chance to work with a Team that does music like that with me yet.
HYPNOTICASIA: You sell many of your autographed photos to donate to projects that help street dogs (strays), how did you come up with this idea and do you still donate?
JANNINE: Yes, I still do from time to time. Me and my mom really like animals and here in Thailand there are a lot of stray animals so we thought that by selling autographs we could help out a bit.
HYPNOTICASIA: If you weren't in the entertainment industry, what would you be doing instead?
JANNINE: I would be a Designer cause I love fashion! I just love playing dress up and matching clothing. haha
HYPNOTICASIA: You have covered K-POP tracks via YouTube, are there any artists you'd want to collaborate with in the Korean entertainment industry?
JANNINE: Any K-POP artist would be cool! But if I could choose maybe BTS, NCT U or AOA.
HYPNOTICASIA: If you can collaborate with one person that you haven't already, who would it be and why?
JANNINE: I would really like to do a track with Iggy Azalea or Nicki Minaj! I just love how their voice sound when they rap on a track!
HYPNOTICASIA: If you could give a word of advice to an aspiring singer, what would it be?
JANNINE: Never stop! Always try to find a way to get closer to your dream. Don't just wait for opportunities, you need to run to them. Anything you do won't be for nothing, I believe that anything that God has put into your heart is for a purpose.
HYPNOTICASIA: Where do you see yourself in ten (10) years?
JANNINE: That's such a hard question! Lets say that I hope I will be touring the world and do a lot of collaborations with artists!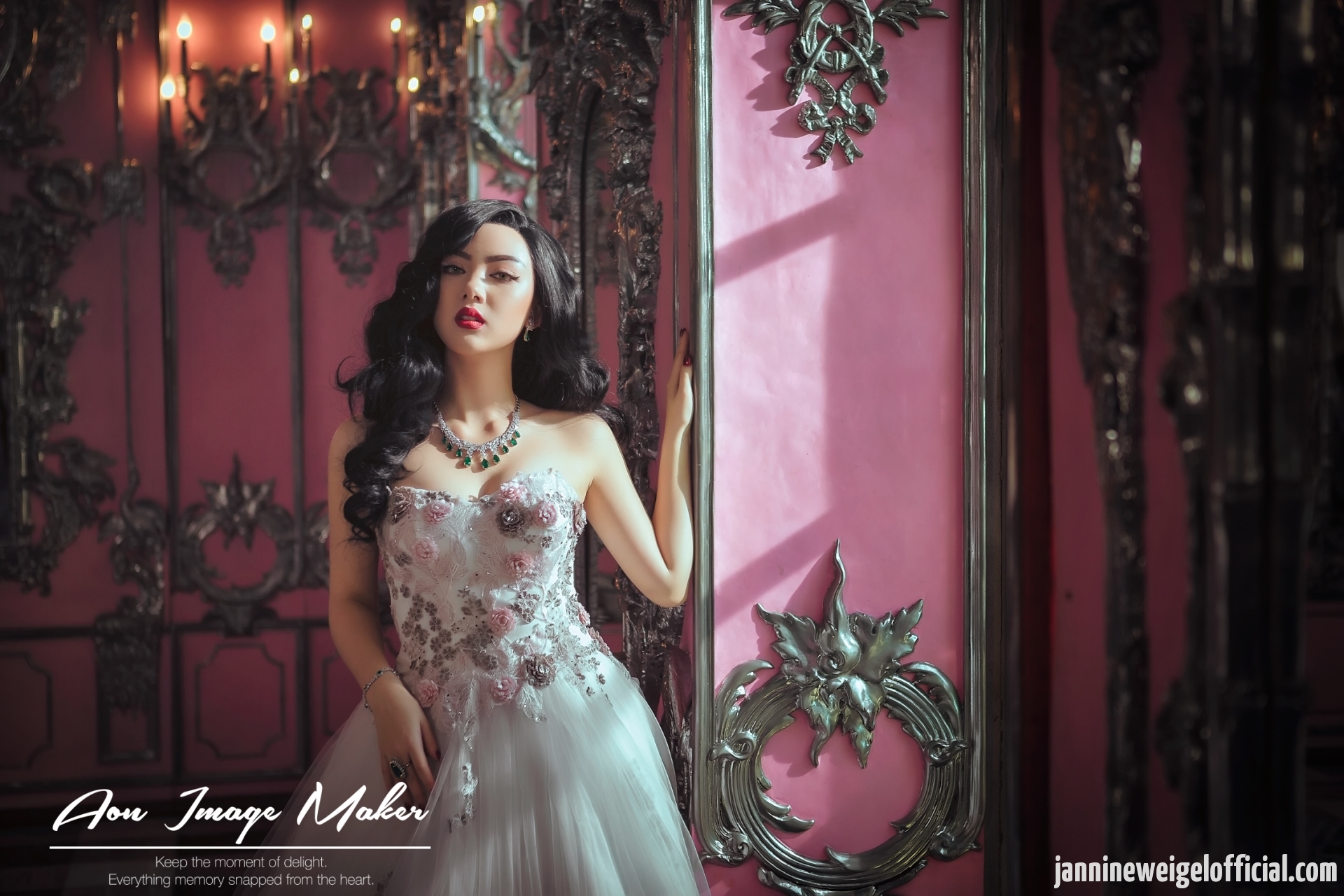 Fun Questions:
HYPNOTICASIA: If you had an unlimited budget, what kind of music video would you have, who would be in it, who would direct it, etc…
JANNINE: I would definitely do something that's a mixture between Taylor Swift and Katy Perry. I love how glamorous Taylor does her Music Videos and how fantasy-style Katy's Videos are. I would definitely like to work with Joseph Kahn cause from the Videos he has done for Taylor I'm totally in love with his directing! I love how much detail he puts into each video. He can pull out so much personality from the artist into the video.
HYPNOTICASIA:  If you were an animal, which would it be and why?
JANNINE: I would be an eagle cause it's such a gracious bird. I wanna fly but I don't want to be just an ordinary bird. I want to be cool like an eagle. And also the eagle is Germany's national animal.
HYPNOTICASIA: What is your Karaoke go-to song?
JANNINE: "Shape of You" of course, duh. haha
HYPNOTICASIA: When traveling to a new country, what do you look forward to? Is there any food you'd like to try that you have not before?
JANNINE: Yes, the food! I love trying out foods that I've never eaten before (but nothing too weird lol)! Especially the food that's like the national thing there.
HYPNOTICASIA:  Any dream vacations? Where and why?
JANNINE: New York! I've been there once for (but only for a day) and I really wanna explore more! I just love the hustle of the city and I want to go see all the other attractions other than the Times Square.
HYPNOTICASIA: Pepsi or Coke? What is your favorite drink?
JANNINE: My favorite drink is actually Almond Milk. Unsweetened, of course!
HYPNOTICASIA:  First thing I do in the morning is…
JANNINE:  I check my phone lol
HYPNOTICASIA: Last thing I do before bed is… 
JANNINE: I read my bible…that's on my phone lol
HYPNOTICASIA:  What does your playlist look like? Artists, songs, most played track? JANNINE: I love Christian hip hop! I listen to artists like Lecrae, Trip Lee, KB, Andy Mineo, Aha Gazelle and Gawvi! But I also like to listen to songs of YouTube artists like Sam Tsui. His song "Cameo" is my favorite song right now.
HYPNOTICASIA: What are five items you cannot live or function without?
JANNINE:
my phone lol
mascara
any devices that can play music
earpods
YouTube
Jannine is also raising funds for two new music videos for "Diamonds" and "Heart Stop" and has currently raised $3,800+ out of the $19k she needs! Support her HERE.
Connect with Jannine Weigel:
Connect with HypnoticAsia: